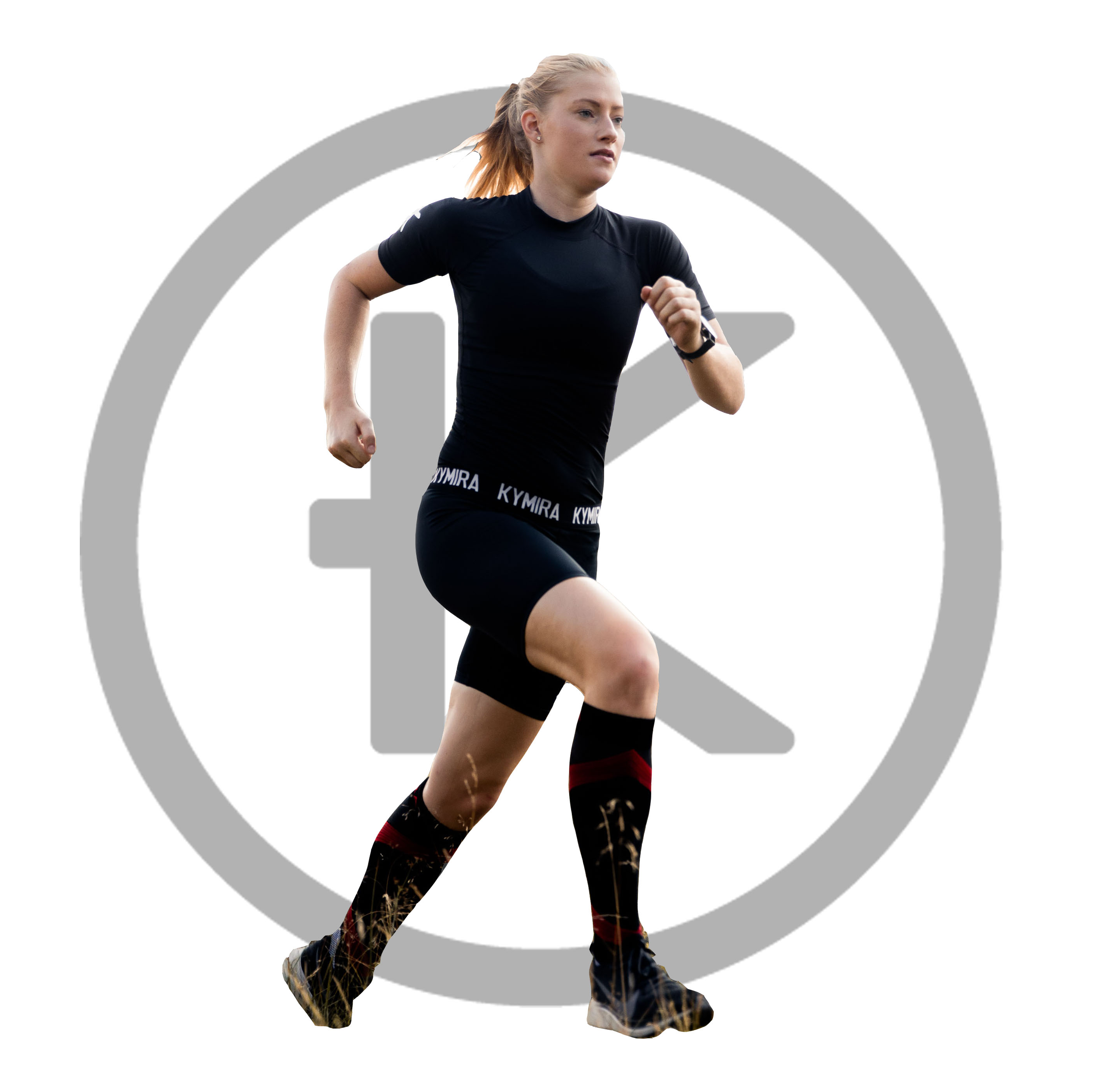 ---
---
4th at ITU World Sprint Duathlon Championship for Great Britain Age-Group 20-24 2019.
Sports Women of the Year at University of Glasgow, 2019.
"The infrared emitting fabric allows better temperature regulation and increases oxygen saturation in muscles, allowing me to run faster for longer."
Izzy Rayner
GB AG Athlete
What are your top 3 Kymira Sport garments?
When do you use them and why?

---
My favourite KYMIRA garment is my Training Leggings. I mainly use these during a weights session to keep my leg muscles warm and regulate my body temperature. Their comfortable and flexible fit allows maximal range of movement for lifting and the infrared technology optimises my energy expenditure during a strenuous session. I also tend to put my leggings on immediately after a race or training piece, utilising their compression component to assist with recovery and removing exercise by-products from my legs post-race. 
---
I always race in my KYMIRA infrared ankle socks. Partly because they have become my latest "lucky socks", but also because I love the fit of the higher ankle and supportive arch material, meaning they don't slide down or cause friction when I'm rowing. 
---
Another garment I really like is the PrO2 Cycle Jersey. I love to go cycling as extra cross-training and this jersey has a comfortable fit and allows you to be easily seen. The breathable fabric, alongside the infrared technology, means it's great for warm summer rides as well as over the top of the infrared long sleeve in the winter.  
What is your favourite training accessory?
My Garmin Fenix 5S watch, it records all my training and is useful in telling me my speed, distance, time and heart rate as I train and race.  
What has been the toughest experience in your career and what did you learn from it?
When I was 17, I did running and netball competitively. Due to over-training I got a stress injury in both of my hips and as a result, I was off running training for 6 months. This taught me that cross training and strength and conditioning is really important the experience is why I do triathlon today, as I love the variety of each sport in working different parts of your body and trying to excel in each discipline.
How has your recovery routine changed since using KYMIRA
I wear my Kymira IR50 Leggings and Long sleeve top before and after training to increase blood flow around the body which aids recovery and prepares the muscles.
Izzy's Top KYMIRA Sport Products
Describe your diet/meal plan leading up to a big race:
I ensure I am eating a balanced proportion of vegetables to get micro-nutrients, carbohydrates for energy such as pasta or potatoes, and protein for muscle building, along with healthy fats from avocado or hummus. Every morning and 3 hours before a race I have porridge with bio-synergy Lean and Green Raw Vegan Protein Powder and fruit on top. 1.5 hours before a race I have Bio-synergy Body Perfect Caffeine capsules.  
How do you balance your training and racing life with life outside the sport?
I train twice a day, in the early mornings from 6:30 and in the evening from around 19:00-21:00pm, leaving the 9:00 to 18:30 available to go to work or see friends. I have Fridays off so I try and organise dinners or a day out with my friends then. Most of my training is with a sports club, so I see my friends then and we socialise after training as well.  
What type of nutritional supplement do you find most helpful?
I swear by Bio-Synergy's BCAA.
"[KYMIRA is] perfect for recovery as the infrared technology increases cellular metabolism and reduces DOMS."
Izzy Rayner
GB AG Triathlete