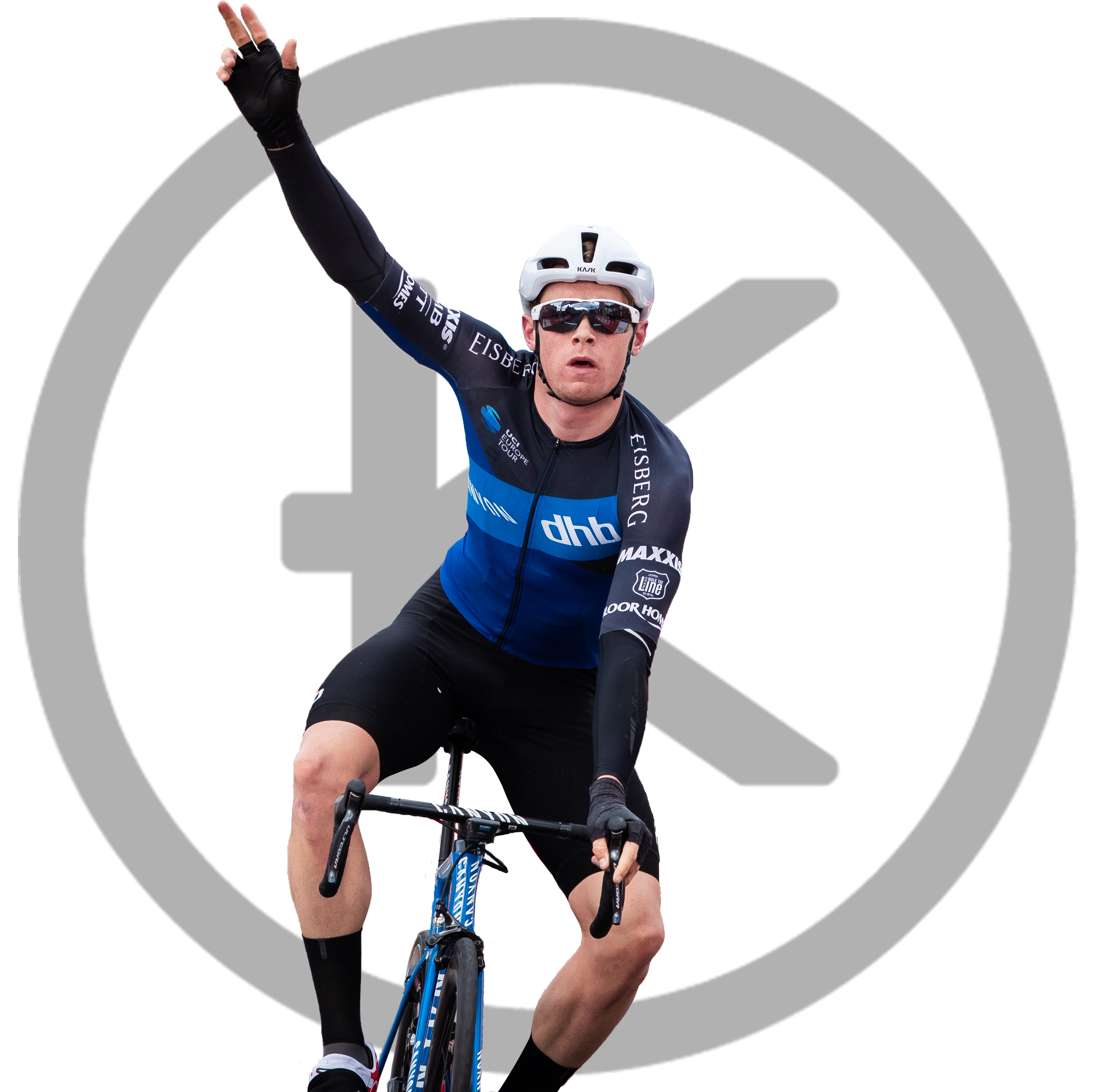 ---
---
Team Ireland and Canyon DHB SunGod cyclist
Green Jersey Winner Tour de la Mirabelle 2021 Stage 1 - Points Classification
Red Jersey Winner Tour of Britain 2019 - Sprints Section
---
"I'd had a shocker in the morning. Couldn't even hold tempo for six minutes. I went out for the afternoon in the shorts and jersey and it was like nothing had happened. The next day I won a race feeling better than I had in weeks"
Rory Townsend
Team Ireland and Canyon DHB SunGod International Cyclist
Your best piece of coaching advice?
Have a good balance of structured and free 'fartlek' riding. Racing is very rarely as structured and monotonous as what you'll do in training, so it's good to through in a few random efforts here and there, whether that's accelerating away from the lights, racing to the top of a climb, or sprinting to a town sign. It's basic but effective training, and it keeps things interesting and fresh!
Your best mental performance tool?
I use music a lot to help keep my head in a good space before an event. More often than not it's relaxing music to keep me from burning out after the first kilometre of a race!
What benefits have you experienced from using KYMIRA sport?
I had seen and heard a lot of impressive data on the recovery and performance benefits of the KYMIRA technology before trying it. I was really excited to try it out for the first time, but also somewhat sceptical as to whether it would live up to what I'd heard. The results were pretty dramatic. I had a terrible session in the morning before I tried the kit, I then wore it for the first time for 4 hours during the day before reattempting the session that same day, and I was able to complete it, and felt comfortable doing so. The following day I won a race feeling the best I had in a good few weeks.
Rory's Top KYMIRA Sport Products
How is KYMIRA supporting your goals?
I am someone who loves the one day races, I like putting everything out there in single day event. I sometimes struggle with stage racing which for anyone familiar with the sport, it's a massive part of it. Multi-day events are always tough for me, so I can't wait to take the kit out for the Tour of Britain this September [2021]
What has been the toughest experience in your career and what did you learn from it?
At the start of 2018, I was hit with a series of injuries, starting with a broken wrist in my first race of the season, and followed by a broken collarbone from a training crash on my way back to fitness. The rest of the year was setback after setback and made me really consider whether I wanted to continue with the sport. I gave it once last shot for 2019 and went on to have the best season of my life. It gave me a genuine belief not to give up, and now I know when I start a race that might be tough, that it will never be tougher than what I had to go through in every race in 2018.
What does your training ecosystem look like?
On big training days, there's a lot I need to consider to have the optimum chance for success. This begins the night before, being in bed a decent time after a good meal or two, I almost always sleep in the KYMIRA leggings now to make sure I am ready to perform from kilometre 0 the next day.
During my morning activations I will wear the kit to help get the joints moving comfortably, then I will often wear a base layer top and/or short under my kit to improve muscle contraction and energy production.
I will recover in the kit after almost every session, particularly explosive sessions where there will have been a lot of physiological stress put on the muscle, I not only want to recover quickly, but also with enhanced capabilities from the session. Consistent protein consumption on the hours after a hard session are key and having a protein rich meal the night after a hard session is really important before a recovery day.
"I sleep in it every night. I walk in it everywhere I go. It's been amazing travelling in it. After a long journey I feel 100x better in terms of stiffness"
Rory Townsend
Team Ireland and Canyon DHB SunGod International Cyclist