---
---
Completed 63 marathons in 63 days throughout the UK
Ran around the coast of Ireland
Ran from John O'Groats to Land's End
Preparing to run the width of Australia.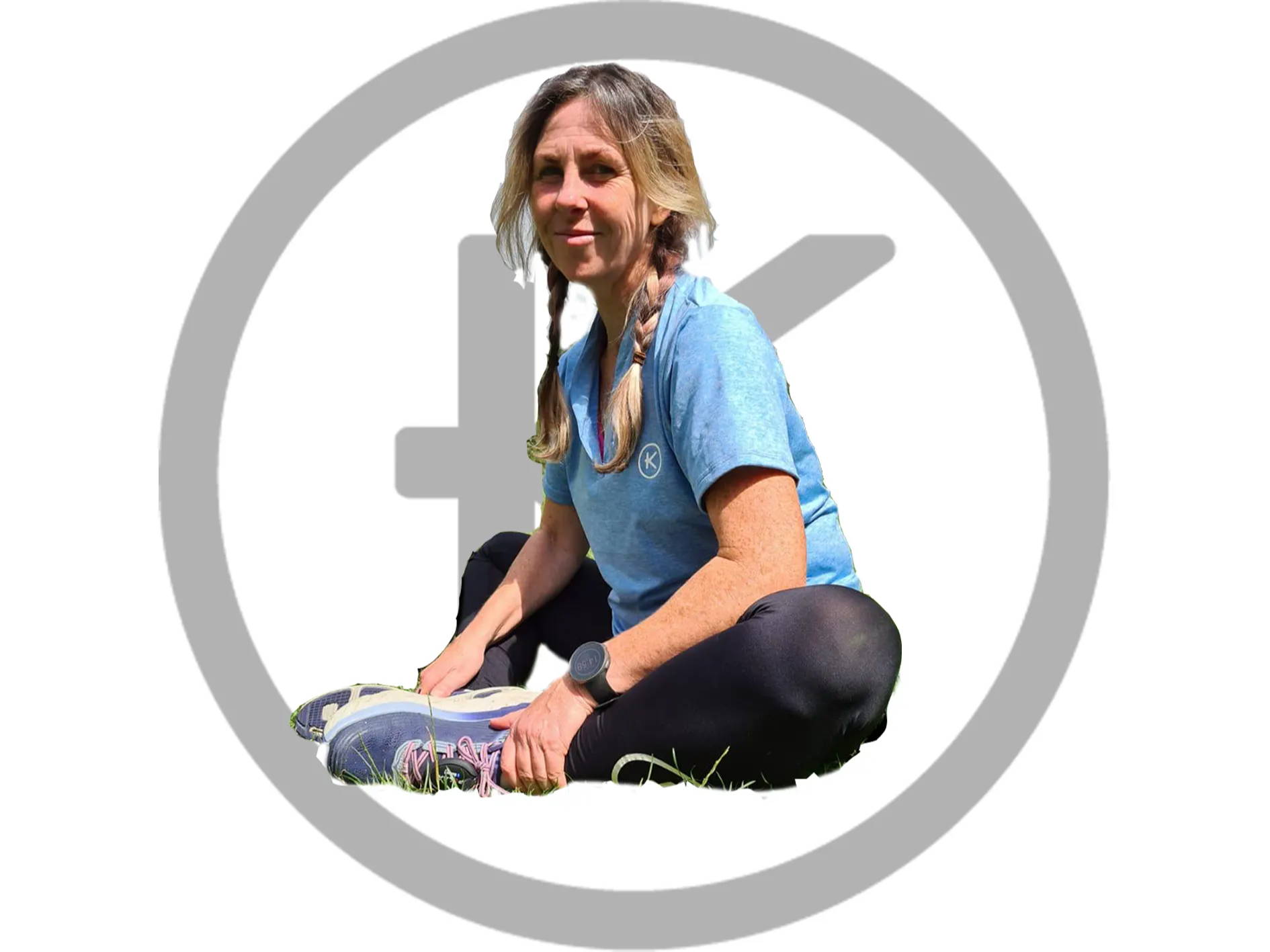 ---
"KYMIRA's infrared sports gear has become an integral part of my training. The beauty of this technology is that it also helps with the dissipation of the heat that comes from the hot flushes I'm experiencing – in any weather (oh, the joys of peri-menopause)."
Nikki Love
Adventure Runner
What's the best piece of coaching advice you've received?
Training wise - it's to kick at the end. You think you've got nothing left, but you have, give it. The first time I did multiple marathons was in 2010 and on my 7th marathon in 7 days I was coming down the home-stretch of the London marathon when I ran up alongside a guy who had been having a hard day and had pooped his pants. I was totally spent, this was the last few hundred metres of 7 marathons in 7 days, but there was no way I was going to have my finish line photo next to him. I gathered everything I had, and I kicked like it was the start of day 1 and I finished strong, happy and not next to Mr Poopy Pants.
Adventure wise – look up and take it all in. I've run some extreme races in extreme conditions (Jungleultra – self-supported 230kms in 5 days in Peru). When it got hard and I thought I couldn't go on, I looked up saw the awesome beauty of the world I was in and kept going.
What has been the toughest experience in your career and what did you learn from it?
Running through the Namib Desert, I did not cope with the extreme conditions and became dehydrated. I was throwing up and my brain was not functioning properly. As I sat on the ground in the desert (not a particularly wise move), the support crew found me and the head medic gave me the news – I faced potential renal failure if I kept going, I'd stopped sweating in the 50 degree heat meaning my body was not functioning properly, but it was my choice. I chose to call it a day. I learned that I have limits and whilst I believe I should not give up when the going gets tough, physical health damage is not a risk worth taking for a run.
What is your best mental performance tool?
Remembering the reason WHY. I spend a lot of time thinking, writing and totally connecting to all the reasons why I'm about to take on a challenge so that when it gets hard (and it always does) then I can recall all the reasons why giving up and throwing in the towel when I'm going through a bad patch is not an option.
Nikki's Top KYMIRA Sport Products
What were your initial thoughts on KYMIRA before experiencing the technology vs now you've tried it? 
I was keen to experience the recovery assistance aspect of the material – the things I do mean I have to get up and get going again day after day, week after week. If there was a product that would help me with recovery and repair then I wanted to give it a go. I've run across the Netherlands, the length of Wales and 1000 miles on a treadmill in 42 days using my leggings during the recovery phases of my adventures and whilst they are not miracle pants (there is pain and fatigue in extreme running), they let me get up day after day after day and give it my best.
What is the most common training mistake you see? Any suggestions on how to avoid it?
As a sports massage therapist, I've seen many, many people with aches, pains and injuries. The most common cause is pushing too hard, too far, too fast. Aerobic conditioning improves faster than the body (muscles, tendons, ligaments, bones) takes to adapt to training. Take your time to build a strong body.
Poor technique through poor posture also tends to cause injuries, aches and pains so I always look at posture and pattern of movement and prescribe remedial exercises to help improve and hopefully reduce injuries and time out from training.
What does your training ecosystem look like?
I like to run so you'll usually find me out running most days just enjoying the movement and the places I run, I also do bodyweight exercises to keep the rest of my body strong and balanced. I like to stay ready for endurance runs and will often do a race or event on a whim just for the fun of it. When I've decided what my next 'big' adventure is, this is when I start the build-up and training specific to the event making sure that I cover my 7 essentials – endurance, speed, strength, power, flexibility, mobility, and agility. Eating during my adventures looks different to my day to day eating as my calorie burn is so high every day. I still ensure I'm getting in my vitamins and minerals through; protein, carbs and fats. The need for calories also includes me eating quite a lot more junk food and cravings are weird – my latest adventure running 1040 miles on a treadmill in 42 days included cravings for tomato sauce, raw mushrooms and cold cooked broccoli. Recovery – resting, stretching and self-massage - need to be done every day during an adventure. However, I'm often extremely tired during the first 2 weeks of an adventure as my body adapts to what I'm putting it through so being able to put on my Kymira leggings to do the recovery work for me is a blessing.
"I find KYMIRA keeps me the perfect temperature in a range of conditions. I wear them all-year round, they keep me warm enough in the winter, but control any flushes or sudden changes in body temperature that come with my changing hormonal levels. It feels like they react to your body, it's amazing."
Nikki Love
Adventure Runner