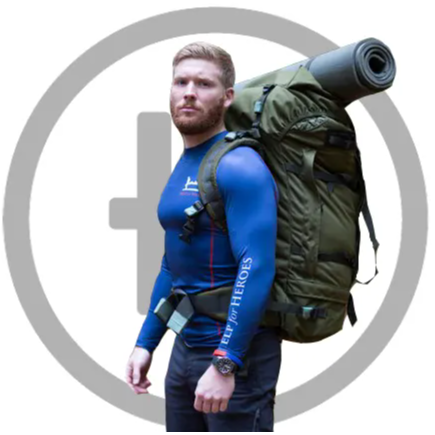 ---
Ex-Royal Marine and Explorer
---
Attempting the World Record
Louis and Expedition partner Ant Lambert are crossing the Earth's five largest Islands: Papua New Guinea, Borneo, Madagascar, Greenland and Baffin Island unsupported and completely self-powered.
---
"KYMIRA for me is about the recovery element. We don't compete at an elite level, it's not marginal, it's long and it's slow and it drags the whole way. We wear KYMIRA overnight in the Arctic, in the jungle we wear KYMIRA shorts the whole time, it's really all about the Recovery for me."
Louis Nethercott
Ex-Royal Marine and World Record Holding Explorer
What made you and Ant decide to do the crossings?
I'd just left the Royal Marines, having come back from Afghanistan, and coming from one intense environment like that, I needed something else. From a psychological standpoint I wasn't doing great, and I wouldn't have been able to just integrate into a fulfilled way of life, I needed something else. I had this notion where I just wanted to live in the jungle on my own, so I went to the jungle and stayed there for 60 days. It's been a journey for me.
What's the best advice you've received?
It's not really advice, it's a quote from Theodore Roosevelt, "comparison is the thief of all joy", and I think in terms of doing the things I do and the challenges I do, if you start comparing yourself with other people you'll just have a negative experience. For me it's all about just doing you, just being you, and just do what you can for your own reasons. Don't compare yourself, don't judge yourself, just do what's right by you.
What is your best mental performance tool?
Break overwhelming tasks down to incredibly small steps. It's something I constantly review based on where my head's at, but if I'm in a really tough situation and really up against it, sometimes I need to break it down completely, to just picking a foot up and putting it down. Real micro-steps and micro-goals to get you to where you want to get, because it's too overwhelmingly far-away. If you start thinking about that, you won't stand up to it from a psychological stand point.
Louis's Top KYMIRA Sport Products
What were your initial thoughts on KYMRIA and how has your opinion changed?
I came to KYMIRA early as one of the first athletes, as I know Tim the founder. I took the claims for granted, I just didn't understand the technology or how it would work or benefit me personally. Using the kit, lots of products are really good at one thing. I've found throughout my expeditions, KYMIRA is really good at being a lot of things: it's really durable, it dries quickly, it's light, it's promoted our recovery. When we were crossing Greenland, I kept my leggings on for the whole crossing – 32 days day and nights - and certainly towards the end you can feel it. I could feel how many calories I had eaten, I could feel how many minutes I had rested. When I got to that stage I could feel the the benefit of having them on. I'm so impressed with the technology as a whole.
What has been the toughest experience in your career and what did you learn from it?
There's no one thing. I've been through some tough situations both in the Royal Marines, and the Expeditions; nearly lost my life many times; been with people who have lost their lives. I think overall the hardship of those decisions, what it gives me, is a sense of perspective in my everyday life. I really do know what it's like to be miserably cold, so my skeleton hurts; equally I know what it's like to be unbearably hot so you can't regulate the heat in your body. I've been really ill in Papua New Guinea, where there was a tribal war, so I know what it feels like to be truly unsafe. Knowing what those feelings are like, means when I'm back home, I don't take being safe for granted. I really feel and reflect on my experiences, and it enriches the perspective I have on my life.
What aspect of the KYMIRA Sport KYnergy Ecosystem is most important
KYMIRA for me is about the recovery element. We don't compete at an elite level, it's not marginal, it's long, and it's slow, and it drags the whole way. It's a grind. If you can't recover and rest, you can't keep going. The longer we're out there, the skinnier we become, our strength goes, psychologically you deteriorate, it's really at the back end of our expeditions we need ANYTHING that's going to help us. That's when we'll notice an impact from KMYIRA on recovery. When we were in the artic and weight is so important, one KYMIRA base layer saves us 2 sets of another base layer - which is space you can use for food. We've used it in the Arctic and in the jungle and it's helped every time.
"When we were crossing Greenland I kept my leggings on for the whole crossing – 32 days, day and night. When I got to that end stage I could really feel the recovery benefit. I'm so impressed with the technology as a whole."
Louis Nethercott
Ex-Royal Marine and Explorer