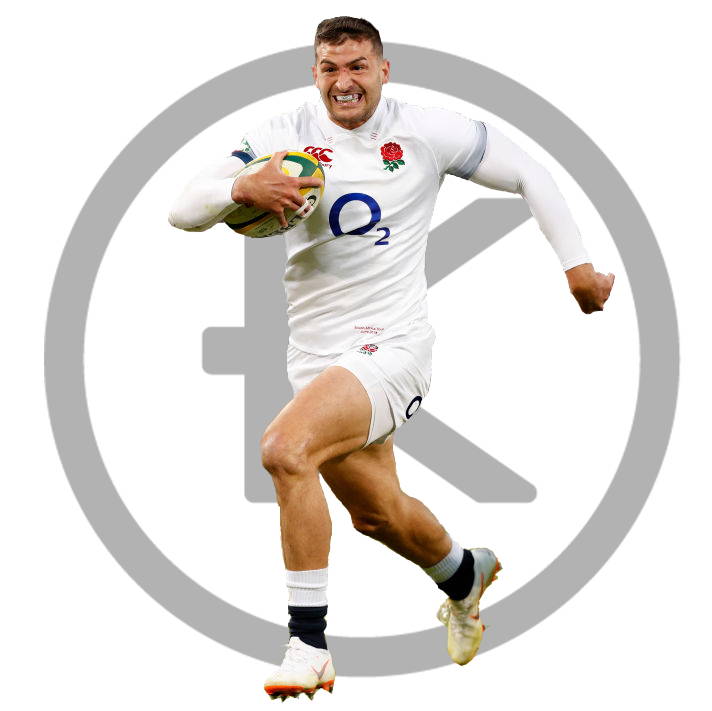 ---
International Rugby Union
---
Winger for England Rugby and Gloucester Rugby Club.
Widely regarded as the best winger in the world.
Has been awarded 66 England caps and is England's second highest all time try scorer, scoring 33 tries in his 66 tests.
---
"I got obsessed with KYMIRA pretty quickly, purely through how great my legs felt
wearing them, I want them on most of the
time. Actually learning about the benefits
of infrared only had them on me more."
Jonny May
Professional Rugby Player - England & Gloucester RFU
What is your best mental performance tool?
When I'm challenged I try to refocus on things that I can control. Mainly either my preparation or the fundamentals of my game.
It's easy to get distracted and caught up in things that you can't actually control, which takes energy away from the things that you can.
What has been the toughest experience in your career and what did you learn from it?
I had a really bad knee injury at the end of 2015 and surgery in January of 2016. I'd done everything, my ACL, my PCL, my lateral ligament, the whole thing, which was
a disaster for a sprinter. It gives me anxiety even saying it. Everyone said "oh that's
your speed gone", you won't be the same. It would have been an easy point to slip off but I was petrified of that and it flipped a switch in me from a hard worker to another level. We talk about marginal gains and with an injury like that, if you don't pay attention to the little things you don't have a chance. I didn't want to get back to the same, I
wasn't coming back unless I was better and faster than I was before.
How important are marginal gains to you?
"I'm constantly looking for things I can do to get a
Percent here or a percent there as they're the things that actually add up. Everyone does the
big things, but it's the little things that set you apart. I wear my KYMIRA socks every
day when I'm training with England, and as soon as I finish a game or training session and we're going out for a team dinner I whack my leggings on.
What aspect of your performance does KYMIRA benefit you most in?
I might be getting older but I'm certainly not getting slower. I didn't find my game until quite late, I wasn't sure what position I would play or what my game would be until we were doing a speed test
in my second year in the Gloucester academy and I won – against the senior team. That made people take a look at me and I thought "wow okay this is going to be my thing". I work on it every day. I always try to get over 10m/s, that kind of speed makes Eddie [Jones, England Coach] happy and makes my life easier. The more I train at
those top speeds the faster I'm getting so I want to make sure I'm warming up properly and recovering carefully so I can continue to push it. KYMIRA is part of that puzzle
for me.
How did you come to use KYMIRA?
I came to KYMIRA when Bob Stewart introduced me to the kit in 2018. I've always worn compression; we train in the winter and I want to have warm muscles when I'm running around out there. We've had Skins and everyone knows the benefits of compression but when you hear about the added benefit of infrared, if I hear of anything that says it can help, I want it. If someone tried selling me some magic
beans, I'd probably remortgage my house. I got obsessed with KYMIRA pretty quickly, purely through how great my legs felt wearing them, I want them on most of the time. Actually learning about the benefits of infrared only had them on me more.
My legs feel good when I take them off and they've become a huge part of my routine and my training. Even flying to Dubai on holiday, I'll fly in my KYMIRA socks.
How has your sport changed over the course of your career?
Ten years ago, everything was about contact and big weights and running lines; at
the moment we're in a transition. It's an exciting 10 years or so from a sports science perspective because we're reaching the end of the gains we can make on
the pitch and everyone's thinking outside the box for where their next advantage is
going to come from. If you look at the athleticism
of players, props are moving like second row, second row are moving like back row, everybody's fitter, they're recovering quicker. You're not getting fatigue leading to gaps in defence. When
I started playing you could easily target players who moved a bit slower who you
could step around but you just don't get those defensive weaknesses any more.
"Everyone does the
big things, but it's the little things that set
you apart. I wear my KYMIRA socks every
day when I'm training with England, and
as soon as I finish a game or training session and we're going out for a team dinner
I whack my leggings on."
Jonny May
Professional Rugby Player - England & Gloucester RFU