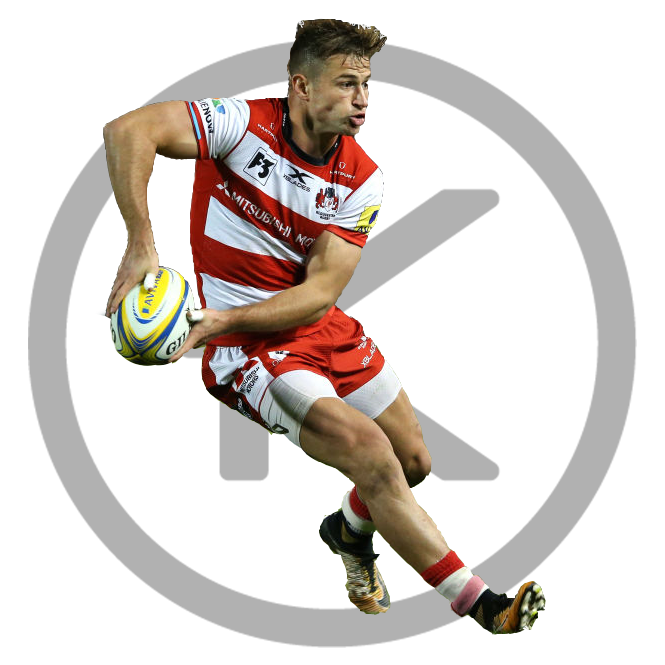 ---
International Rugby Union
---
Centre for RC Vannes
Represented England in the Six Nations at U20 level and has passed 100 appearances for Gloucester Rugby
Henry began using KYMIRA for rehabilitation for a career-threatening achilles injury. Now back playing full time, Henry uses KYMIRA for performance enhancement and injury prevention.
---
"KYMIRA Sport clothing has helped me to come back from a ruptured Achilles tendon and back to competition - that's been the biggest highlight for me! It could have been a career-ending injury but thankfully, it hasn't been"
Henry Trinder
Professional Rugby Player - England & Gloucester RFU
What's the best piece of coaching advice you've received?
To be coachable and learn from your mistakes. Sport and teams change all the time and if you can't keep developing as a player and learn new skills whilst improving as an athlete you won't get far.
What's your best mental performance tool?
Positive visualisation: preparing yourself mentally for games is very big for me, and being ready for anything to come.
Preparation: Knowing your detail and tactics as well as ticking all the boxes physically (nutrition, recovery, prep).
What has been the toughest experience in your career and what did you learn from it?
Injuries. Dealing with injury setbacks is always hard. When you're faced with a lengthy rehab schedule it is hard to find motivation and turn up everyday with a positive attitude.
Lessons: Breaking the journey down into a step by step plan and recording it all so you can look back on it to see how far you've come can be a very positive tool mentally.
Henry's Top KYMIRA Sport Products
What were your initial thoughts on KYMIRA before experiencing the technology vs now you've tried it?
Before using the KYMIRA products I assumed they were just another compression clothing item. Learning about the infrared technology and then experiencing the physical benefits for myself definitely separates this product from others.
How has your recovery routine changed since using KYMIRA?
Since using KYMIRA I have definitely found my recovery time shorter, and find I have reduced soreness after sessions. Wearing the leggings and shorts for training is great but the biggest noticeable difference is wearing the leggings and stockings over night. Resulting in me waking up fresher and ready for the day.
How important are marginal gains to you?
Marginal gains at the top level of performance are very important. Making sure you're ticking every box possible to try and gain an advantage is very important.
"KYMIRA® Sport clothing has 100% made a difference to my game on and off the field. I honestly believe that everyone both in sport and life can benefit from wearing KYMIRA® day to day."
Henry Trinder
Professional Rugby Player - England & Gloucester RFU