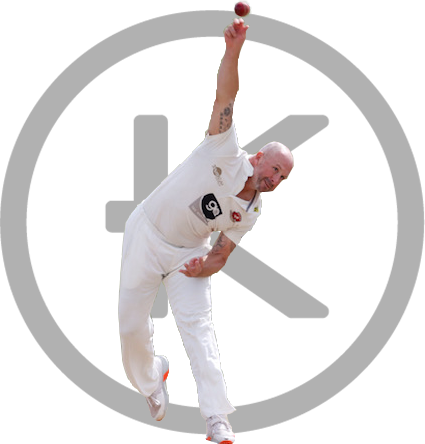 ---
---
One of county cricket's best evergreen performers.
Widely regarded as one of county cricket's most talented bowlers while being a batting specialist.
At 45, Darren is still scoring career bests.
---
"My first time out in the cycle kit I just went out for a cruisey ride, I wasn't really feeling it... I beat my 40km time by 12 minutes"
Darren Stevens
Kent County Cricketer
Your best piece of coaching advice?
With cricket it's very simple, hit the ball, run. When you're batting you can end up watching an area instead of the ball. One of my coaches simply told me to watch the shiny side of the ball, or watch the seam and I practise with a stump size bat, that's all I'll ever practise with, super simple.
Your best mental performance tool?
For me it's all in the preparation. Because I'm an older player I know a lot of the other bowlers and I'll do a lot of research on who we're playing against, the bowlers, how I'm going to score against them, how I'm going to get them out. Then in a game all my prep's done so I'll just get in, check the wicket out, check the surroundings, how far are my boundaries. When it comes to the prep it's all done a few days before and on the day keeping it as simple as possible so the game takes care of itself.
How Important are marginal gains to you?
Massively important. In the season we are non stop, we'll be on the go six days a week for the first six weeks from April, just solid training and playing, with travel on the top of that. It really puts KYMIRA to the test
Darren's Top KYMIRA Sport Products
What were your initial thoughts on KYMIRA, how did they change after trying it?
Where was this 10 years ago!? I literally could not have enough kit. When it was suggested for me I was a little bit sceptical as a lot of people are. The effects are just mad and the rest of the work the R&D team are doing is incredible. I make everyone try it. The first time I wore the cycle kit I just went out for a cruisey ride, I wasn't feeling up for it so just cruised 50 odd Km and came back in to check my Garmin and I'd beaten my 40km time by 12minutes. I've been cycling for 10 years and never got close to that time. I wore my leggings overnight and felt like I could have gone again in the morning!
What has been your toughest career experience and what did you learn from it?
I'd say I went through a tough stage while I was at Leicester as in 2004 I was released from the club. I'm a Leicester boy, born and bred and I'd been with them for 7-8 years and I was doing okay but just not doing as well as I was expecting myself to do. It was the end of my LIFE, I didn't know what to do, I went to the changing rooms after they told me and had no idea where I was going to go, I thought I was walking in there to sign a contract. I rang up a friend of mine, Neil Burns, and spent the weekend at his place, played a bit of golf, and he said "Right, what are you going to do" and I said "well I want to play for England" but I didn't even have a county so how was I going to play for England? He went "Right, lets set up a plan" and over the next 7-8 months we did and luckily along the way I got picked up by Kent and ever since that winter my career's just gone through the roof. I have a lot to thank him for, and also Kent for taking me on.
I think I became more professional. When I was younger it was a bit of fun, I was being paid to play cricket with my mates and still getting to travel with away games. It was more of a social thing. When I was released it hit me hard, I had a mortgage and a car and I couldn't see where I was going to go It made me aware of what I was actually doing. I wanted to get better, I wanted to win games, I really learned the professional side of the sport.
How has your recovery routing changed since using KYMIRA?
I've had to rein myself in a bit actually. I don't like doing too much this time of year because I'm supposed to be recovering from the season but I keep waking up and wanting to do more and more. I need to try to stick to my routine. I'm really excited about my training load increasing so I can actually put the kit to real use!
[what did you think of the technology when it was first suggested]
"Where was this 10 years ago!?"
Darren Stevens
Kent County Cricketer